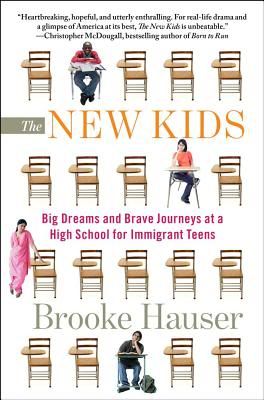 The New Kids: Big Dreams and Brave Journeys at a High School for Immigrant Teens by Brooke Hauser is a great non-fiction read - a look at a high school in New York where its entire population is made up of immigrants.
My elementary school now boasts 27% of its students are English Language Learners. While that is a far cry from the school featured in this book, I could see some of my students in the ones Hauser featured. Although many of my students have lived in the United States for a while, each year we enroll some that are new to America, without any English at all.
The New Kids is a look at students from various walks of life - all who end up at the same high school. They have come to America for various reasons, yet all have a few things in common: they are looking for a way to make a better life, and they are all struggling to do this.
Jessica, one of the students, finally reunites with her father, only to find he has a new wife (her mother is still waiting to come to America) and two young children. Her father chooses his new family over his daughter, so she rents a room of her own elsewhere and manages to work to support herself while going to school. Another girl, a Muslim, marries in an arranged marriage, hoping her husband allows her to finish school. Mohamed, from Sierra Leone, has arrived in New York mysteriously after coming to America to spend just a short time in this country through a church sponsored program. These are just a few of the stories Hauser captures in the pages of this amazing look at immigrant education in America.
The New Kids is not a dry, boring look at immigrant education, but reads like a story sharing the personal accounts of students and teachers to show how a system like this works.