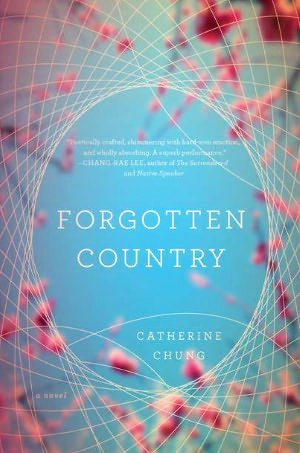 Catherine Chung's debut novel Forgotten Country was a random selection from this month's Amazon Vine newsletter. I love women's fiction and after reading the description I thought it sounded like a book I might like. Yet, I hesitated a bit wondering if I would enjoy it. I should not have worried at all. I fell lin love with this book from very nearly the first page.
Janie, the older sister in a Korean American family, must live up to the expectation of caring for her younger sister, Hannah. In each generation in their family a daughter has been lost, making Janie's job more important than ever. As the book opens, Hannah has cut herself off from her family, refusing to talk to them or even let them know where she is. Janie's father is diagnosed with terminal cancer and must go to Korea to try a new form of treatment. Janie recollects portions of her childhood that were meaningful, giving glimpses into what may have gone wrong with her relationship with Hannah.
This is truly a story based on characters and their development, a type of book I love. Despite her anger with her sister, Janie decides to locate Hannah and uncover the secrets of their past. I loved the Korean setting for a portion of this story and also the way in which Janie and her family moved to the United States and became acclimated to American culture and way of life.
Both before and during reading I felt hints of Amy Tan's work, high praise for Chung's debut novel.