Yesterday was my lucky day. We had conferences at school, and while the contract time of 12:30 PM - 8:30 PM was less than desireable, I was ecstatic to receive three boxes of books from Baker and Taylor in the mail. They are all stamped and almost half are ready to go out on the shelves. I took home three of them to read to my own girls last night.
Five Little Monkeys Reading in Bed by Eileen Christelow is a cute book, expanding on the Five Little Monkeys Jumpin on the Bed theme. My youngest daughter especially enjoyed this one, and I am already planning on using this for a kindergarten story time.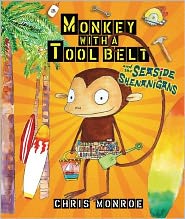 Monkey with a Toolbelt and the Seaside Shenanigans by Chris Monroe was one all three girls were excited to see. They loved the first two Monkey books by Monroe, and this third installment is funny and cute as well.
Amanda and Her Alligator by Mo Willems was our last read aloud. While the book looks long, it was a quick and funny read. What else would I expect from Mo?
All three of these are ones I want to share in read alouds with my class. Today I plan on reading several more picture books and bringing home a big box for the weekend. I love getting new books!!!