The events of September 11, 2001, are ones that stay with you for a lifetime. Just as my parents can recall where they were (highschool, senior year) when JFK was killed, I will always remember where I was on 9/11/01 (at home on maternity leave watching the events unfold live). I realized that this year my elementary students have no memories of this event. At most they may have been a year old. While they know bits and pieces of something they told me "happened a really long time ago" they don't know what life was like before that day. I had been looking for a book to share with them - one written for kids - and came across America Under Attack by Don Brown. Brown's hometown of Merrick, New York, lost fifteen residents - equalling the number of men lost in the Vietnam War. His book is dedicated to them. Within this picture book is the story of what happened on 9/11 in a way students can understand. While this might not be the book for lower elementary students, my fifth grade classes listened so attentively and were so serious and interested in this story of our nation that they left the library to return to their classroom and continue their discussion for another hour. Brown 's story features several people affected by this tragedy- some who survived and some who did not. While it is not pleasant to relive the events of that day, Brown's book is well done and appropriate for students wanting and needing more information.
I, too, have been feeling the need to read about the people affected by 9/11. Immediately after 9/11 there was a large number of books that were published, and I read many of them. After watching continuous news coverage, I felt somehow connected to people like Lyz Glick and Lisa Beamer who lost their husbands on United Flight 93. Both women went on to write memoirs that I enjoyed reading.
On Top of the World : Cantor Fitzgerald, Howard Lutnick, and 9/11: A Story of Loss and Renewal by Tom Barbash gives greater understanding of this company who lost 658 employees on 9/11. One of those employees, Lauren Manning, who was burned on over eighty percent of her body, miraculously recovered and reclaimed her life. Her story, Love Greg and Lauren, a compilation of her husband, Greg's, emails to friends and family chronicling his wife's fight for life, was published after the tragedy. Now, Lauren has written her own book, Unmeasured Strength, about not only the accident but the past decade as she worked hard to become the woman she is now. I have just purchased this one from Amazon and am anxious to read it; Manning is an amazing woman!
Marian Fontana's book, A Widow's Walk, is a memoir I read a few summers ago. Fontana's husband, Dave, a firefighter, died on 9/11, their eighth annniversary. Suddenly Fontana found herself a single mother trying to make ends meet and missing her husband terribly. While her story doesn't sound that different than the many other women who lost their spouses, Fontana's writing is amazing and I found myself nearly unable to put this book away.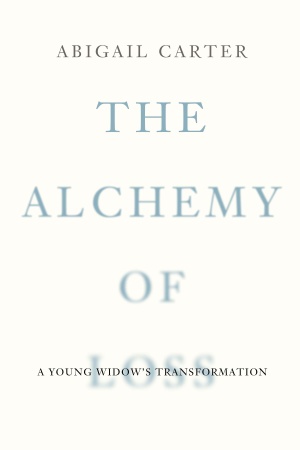 Tonight I finished up The Alchemy of Loss: A Young Widow's Transformation by Abigail Carter. Carter lost her husband, Arron, on 9/11, the only day he attended a meeting at Windows of the World restaurant. Her story reminds me of many other widows', and yet each story is unique. Each person lost on that day left behind family and friends and each story touches me. I had not heard of Carter's book, published in 2008, until recently when she was featured in All You's September magazine. I enjoyed reading the article about Carter, a Canadian citizen, who has since relocated with her children to Seattle and started life anew.
While there is no way I can read these books one after the other, each fall I find myself revisiting that day. Our beautiful fall weather here this past week is certainly reminiscent of the cloudless blue sky in New York ten years ago. As a Midwesterner, 9/11 at times feels remote to me, a small-town girl. I know that reading a book about this day cannot possibly replicate the experience, but it allows me to see and feel what many others are still dealing with a decade later.