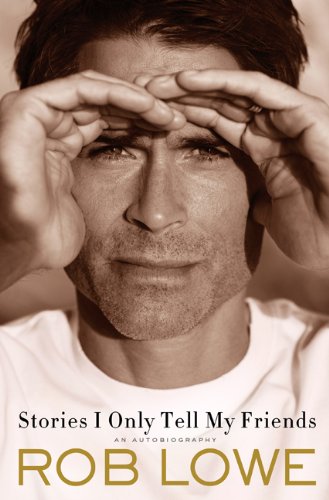 Despite my love of memoirs, I can usually count on one hand the number of celebrity memoirs I read each year. Many of them don't appeal to me, and often I find they are mostly fluff. Even though I am not a Rob Lowe groupie I have seen several of his movies and love the West Wing which Lowe was on for four seasons, playing Sam Seaborn. I knew enough about Lowe to want to read about his life, and not too much that I would feel as though I already knew everything I was reading.
Lowe's writing in his memoir, Stories I Only Tell My Friends, was surprisingly good. Several times I glanced at the acknowledgements looking for Lowe's co-author, never finding the name of anyone that might have helped write this book.
Stories I Only Tell My Friends focused mostly on Lowe's childhood and early life in acting. With only fifty pages left in this book Lowe begins discussing his time on West Wing. I enjoyed how Lowe recalls meeting different people who will later go on to become famous. As a child he was friends with Emilio Estevez and Charlie Sheen. He and Tom Cruise hung out together for a while awaiting roles in The Outsiders. At different points Lowe is introduced to Sarah Jessica Parker and Demi Moore. After writing a letter to Aaron Spelling Lowe received a letter back inviting him to visit Spelling. Eventually years later Lowe stars on West Wing which is created by Aaron Spelling. While I don't always enjoy name dropping, I did enjoy the way in which Lowe let readers in to his world and the people he grew up around.
Lowe never does write about the accusations his nanny came out with, and while I wish he would have covered more of his adult life, I can't fault him for eliminating this story from his book. After all, since Lowe is the one writing it, he should be the one to decide what he is writing about.
I still have no plans of joining a Rob Lowe fan club, but his memoir was a well written book that was interesting and gave a better picture of who Rob Lowe really is.