Even though I have a list - that is fairly long - of books I want to post about for Throwback Thursday, I have been happy to continue remembering more books that I read while growing up and adding to my list.
The Elizabeth Gail series by Hilda Stahl is a series of books that I read and looked forward to getting all of. Living in rural Iowa, there was a general store just two miles from our house. In addition to having food it also had car, lawn mower and tractor parts, clothing, toys, and a wide range of other items. Located in the store was a carousel of Christian books. I know they didn't have new shipments often, but I looked forward to seeing if a new Elizabeth Gail book was available. Another store in a neighboring town also had Elizabeth Gail books from time to time. Despite not having access to something like Amazon, I ended up with the entire series.
Elizabeth Gail Dobbs was a foster kid who had been sent to live with Chuck and Vera Johnson and their kind Christian family. Although Elizabeth first resisted caring for these people, the Johnsons didn't give up on Elizabeth. Instead they showed her every kindness, taught her about Jesus, and eventually adopted her. Each of the eighteen original books featured some form of mystery that Elizabeth was involved in. All were devoured by me, and I tried hard to limit my reading to just a chapter or two at a time, trying to maximize my reading pleasure.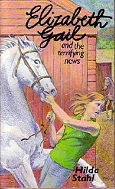 I still have all of these books, and just recently mentioned them to my oldest daughter. Although mysteries seem to scare her right now, I am hoping that she will soon discover the pleasure of this series for herself. Even though many years have passed, I can still recall characters' names and various plots. While this series is not a well known one, it certainly made an impact on me.