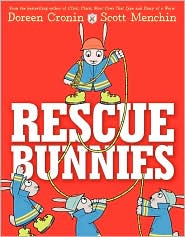 Rescue Bunnies by Doreen Cronin was sent to me by Harper Collins for review. And I will admit that I was very excited to get this book in my mailbox- especially since I have long been a fan of Cronin's Click, Clack, Moo series, so the bar was set very high.
Rescue Bunnies is a book that I did not immediately fall in love with. However, I have now read it several times, and have enjoyed it more each and every time. Perhaps my preconceived ideas about it didn't help matters, because Rescue Bunnies really is funny.
Newbie is a bunny-in-training, passing various tests (Physical Fitness Test, Emergency Rescue Roping Test, Blind Taste Test) in order to truly be a rescue bunny. When the call comes for Newbie to take her field test and rescue a giraffe that is trapped, there is a little suspense and a lot of action.
Rescue Bunnies is a cute story, one that shows the need for those in uniform, who are around to help people (or giraffes as the case may be). According to the letter I received from Harper Collins, Rescue Bunnies was inspired by Cronin's own police officer father, as she wanted to reassure children that those in uniform are there for our protection and safety.
I must also mention Scott Menchin's illustrations, which I found delightful from the first moment. Newbie and friends are immediately entertaining, and while I didn't fall in love with the story at first glance, the illustrations did capture my attention immediately.
Rescue Bunnies is another cute picture book by the talented Doreen Cronin. This book will make a cute read aloud for my classes - providing plenty to talk and laugh about.