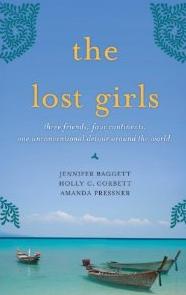 The Lost Girls by Jennifer Baggett, Amanda Pressner, and Holly Corbett is a memoir chronicling the "girls" year they spent traveling the globe together. All three ladies were in their late 20s, deciding what their next move should be in life. While they enjoyed their careers, they felt at a crossroads, not sure if the next step would be to marry and start families. Recognizing how a year away would be a once in a lifetime opportunity, all three decided to seize the opportunity. Together the girls visited four different continents, finding some interesting and unique travel destinations, staying in hostels and finding cheap accommodations for themselves. Their adventures were a blend of interests among the girls, reflecting personal goals and desires.
I have always enjoyed reading about other countries and cultures, and appreciated the viewpoints of the three authors. While Amanda, Holly and Jennifer take turns narrating the chapters, each chapter flowed together and it never felt as though there were a different voice telling the story. While I might dream of taking such a trip, it is doubtful that something like that will ever occur in my life, and it was obvious early on in the book that all three girls are far more adventurous than I will ever be (one example is their participation in bungee jumping).
This is a great entertaining read. The one discouraging factor in this book is it's length. At 537 pages, there are many people who will not even want to attempt such a lengthy read. And while I did enjoy it, I am not sure I needed to know every single detail of the entire year. Certainly Lost Girls is well written, but perhaps a bit too detailed. However, it has given me a chance to glimpse some different cultures and do a bit of pleasurable armchair traveling, which will have to do for me right now.