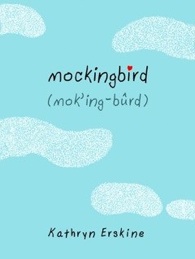 My summer break is just forty-eight hours old and I can't claim any great reading frenzy. I have been busy with my girls - shopping a bit yesterday and today, stopping by the library and sleeping in (shhh don't tell! I am usually such an early riser.).
I did enjoy Mockingbird by Kathryn Erskine, a middle grade novel narrated by Caitlin, a fifth grade girl with Asperger's, a form of autsim. Caitlin sees things in black and white, not having an easy time of understanding feelings and emotions. When her brother Devon is killed in a school shooting, the one person who understood her the best is no longer there for her. Caitlin and her father must find a way to communicate with each other and find closure so they can go on with their lives.
There are lots of things I liked about this book. Hearing things from Caitlin's perspective is so interesting and allows for so much discussion for readers. This book would be a wonderful read aloud for students to develop some awareness of students with differences and an appreciation for them and a different way of seeing things.
Erskine shows Caitlins' thoughts in italics which I enjoyed as a reader, but which might at first be confusing to students looking for and needing the more traditional quotation marks.
Erskine presented Caitlin's peers in a believable way - not really accepting her or understanding the way Caitlin thought. The girls simply weren't nice to her, which is unfortunately a pretty accurate picture of fifth grade girls.
Erskine is writing about this after experiencing a school shooting that took place in her "own backyard" at the Virginia Tech University in Blacksburg, Virginia, on April 16, 2007. While this story is entirely fiction, it is obvious that many, many people are affected by school shootings (which is how Devon died). In addition to the victims and their families, Erskine also created Josh, Caitlin's peer, whose cousin was the shooter. He is suffering as well, having the unfortunate distinction of being related to someone who inflicted so much damage on these people and the community.
I really enjoyed Mockingbird (the title has a connection to To Kill a Mockingbird by Harper Lee), and will highly recommend it to tween readers and to teachers looking for a great, thought provoking read aloud.