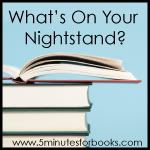 Currently am reading:
What's Up Next: Even though I have bought a ton of books that are just waiting for me, I have to look at my library pile. Coming up on the top of that stack:
I wish that my TBR pile wasn't so overwhelming - it sort of takes some of the pleasure out of reading. I love to read, but I would also love to relax a bit more while doing it. My pile of ARCs is getting bigger as is my own stack of stuff and the library books take up a pretty good chunk of space as well. This should be easy to solve since I am the one in control of all of the above, yet it is impossible for me to say no to a book - I would much rather have it in my stack with the opportunity to read it than let it go to someone else.
The weather is beautiful today, so I am hoping for some relaxation time to sit around and read later this evening.