I may have hit a wall in terms of finding reading time, but the girls and I are still reading each night before bed. Two nights ago we finished Betsy-Tacy by Maud Hart Lovelace. I never read this series as a young girl, and I don't think I even knew about it until a few years ago. I know. Where have I been? My oldest daughter especially likes realistic fiction, so I thought this might be a good series for her to get into. Both girls ended up enjoying it a lot. It is just a nice story about two friends. What is not to like about that? My middle daughter seemed confused sometimes about which girl we were talking about and how to keep them straight, but I could definitely see reading them some more books in this series. Last night we started 101 Dalmations by Dodie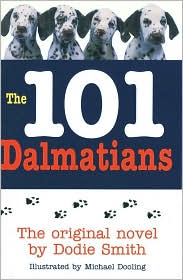 Smith. I read this to myself in fourth grade - before there was a movie to see. I really liked the book and had read it in past years to my classroom of first graders. The girls haven't seen the entire movie yet....they are scared by Cruella De Vil, but are enjoying the first bit we have read. It's interesting how many words I will stop and ask them if they know and all the vocabulary they are getting....canine, furrier, ermine, cloak....I know I didn't stop as often to discuss vocabulary when I read to my class of students and am wondering now how many things I took for granted that they just knew.
Tonight we have gymnastics and our garage sale will be open. I am hoping to get rid of lots of stuff that is taking up space. I was so tired last night I only read 2 pages in Catching Fire which is just pathetic.