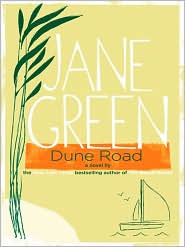 I have been reading Jane Green for a few years now, and am always happy when I see she has another book coming out. It often seems they are published for the summer months, and are perfect beach reads. We took a day trip to Des Moines and did the whole Adventureland thing with the girls on Monday which gave me about five hours of reading time, allowing me to get some good beach reading done without the beach.
Dune Road made me feel like it is summer - finally. It is a fun beach read - chick lit, with a bit of suspense, depicting lives of some very interesting and beautiful people. Kit is forty-one, newly divorced, raising two children and gets hired as a famous author's assistant. Her neighbor, Edie, acts as a surrogate mother to Kit and a good friend as well. Kit's circle of friends includes Charlie whose husband Keith manages to lose everything in the financial crisis, and Tracy, who has some secrets of her own she is hiding. When Kit's long lost sister shows up there is more drama in store.
Green does a great job of creating fun reads. For anyone who enjoys some good, summer reading, Dune Road is a wonderful selection.