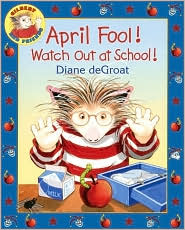 I have loved Diane De Groat's books for many years now. These books have been a regular part of story times during holidays for many different groups of students I see. Second graders, fifth graders, and all those in between have enjoyed hearing We Gather Together....Now Please Get Lost her Thanksgiving title. I have also read Jingle Bells Homework Smells at Christmas, Trick or Treat, Smell My Feet at Halloween, and Roses are Pink, Your Feet Really Stink at Valentines, along with many other titles she has written. De Groat has finally created a book about April Fool's Day. I have had this book sitting in my office just waiting for today (and yesterday, too). After using it at school I am most definitely bringing it home to read tonight, too. It was a hit with all of my classes, and even my most busy students who don't always enjoy sitting and hearing stories were entertained by Gilbert.
Gilbert awakens to his sister Lola reminding him it is April Fool's Day. Throughout the day Gilbert has trick after trick played on him. While he tries to play tricks on others, his friends are not as easily fooled as he is. Finally Gilbert announces to his friend, Lewis, that he has a great trick to play on him. From that point on Lewis pays close attention to everything Gilbert does, just waiting for a trick. The suspense nearly does Lewis in, and Gilbert's trick may be the best one of all.
I have few April Fool titles in my collection, so this is a great addition and one that appeals to a wide audience.