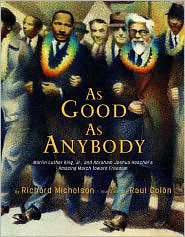 A few weeks ago I had my helpers pull our Black History books to create a display of them. The problem became not that we needed more, but where do we put all of them? We didn't really even have a spot big enough to accommodate all the books that fit that description. I feel like that is a good problem to have. I also have several new books that have never been checked out that I was able to share with the older students.
As Good As Anybody: Martin Luther King and Abraham Joshua Heschel's Amazing March Toward Freedom by Richard Michelson is the first selection I chose to share with my group. I had not read this one before, but had read the reviews about it in various places. This story intertwines the story of MLK and his quest for equal rights for all people with the persecution faced by Jews during World War II. Heschel came to America believing that in this country all people would be treated equally, and then discovered that was not the case for African Americans. He joined with Martin Luther King, Jr. to try and change this. Michelson's book is inspiring and it provides an interesting twist to the story of civil rights. While I really liked this book a lot, I do know my students were confused about some aspects about it. They continued to ask questions showing they were uncertain whether the book was talking about MLK or Heschel and didn't quite seem to grasp their connection.
I also read Boycott Blues: How Rosa Parks Inspired a Nation by Andrea Davis Pinkney and Brian Pinkney. The artwork in this book is gorgeous and the language is written like poetry throughout much of it. The story is interesting as well. My students had the background knowledge about Rosa Parks necessary to make them want to learn more about the bus boycott. This event in the history of the civil rights movement is well chronicled in this book and is a great addition to any collection.